Does Your Yard Have Shady Areas Where the Grass Won't Grow?
We have a large, lush lot that provides us with endless joy. But there was a roughly 300 sqft section in the back corner that was bare from years of shade and neglect. It irked me. I wanted to look at something pretty, as that part of the yard is part of the view out of our master bedroom window.
I knew I wasn't going to put the kind of time, patience, and effort over time needed into trying to cultivate lawn under those trees. So instead, I decided to create something that was aesthetically pleasing to look at but also low maintenance: a dry creek bed. We don't have a runoff problem, so the dry creek bed isn't utilitarian. It's just so that I can have a warm, fuzzy feeling when I look out my window. (And it's for resale value too. The person who buys this lot from us later isn't going to have to solve the bare dirt problem. And there's no doubt the finished product increases the appeal of the yard and the value of the property.)
Why a dry creek bed? Well, rocks are pretty cheap. In fact, you can find them free on Craigslist a good part of the time. (I did that for a big percentage of the larger rocks I used to line the bed.) And, rocks are beautiful. If you choose a variation of color and size it's akin to creating a piece of art with natural materials.
Here's a step-by-step process for building one yourself. (A word of warning, I did all of the work on the creek bed myself so the prices and process I used are not professional. This was purely a DIY kind of thing.)
1.Clear all of the weeds out of the dirt. I'm not a Roundup person, so I just used a shovel and my hands and pulled the suckers out.
2.Dig a very shallow area for the creek bed itself. Probably about 2" deep. Again, because this isn't a utilitarian bed engineered to channel water overflow issues, I didn't go through the entire process of digging deep and laying sand, etc. I just dug it deep enough to create a minimum impression in which to lay my smaller river rocks. Then I pinned landscape fabric (you can buy this at Home Depot) into the creek bed to help prevent weeds from coming through my rocks.
3.Get small rocks. I went to ASAP landscaping supply on Anderson Mill Road (who were FAR less expensive than some other landscape supply companies around – like Whittlesey in Round Rock, for example) and bought several truckloads of 1-3" multi-colored river rock. I have a Ram pickup truck that they loaded for me – but shoveling the rocks into a wheel barrel and laying them down in the creek bed was for me to myself do at home. Most landscape businesses will deliver bulk loads for a small fee.
4.Buy plants and mulch. I went to Red Barn nursery and bought a bunch of small, native Texas, drought tolerant plants (See list below) to plant around the new creek bed. Many of these will flower at different times of the year, and they soften up the harshness of all of the rocks. I bought baby plants because they're cheap and easier to plant – and I bought ones that are specifically shade tolerant so that they'd grow where grass won't – under the oaks. I then laid down weed barrier around all of the new plants as well. Next, I bought a couple of truckloads of hardwood mulch and laid it down around the plants and along the edge of the creek bed.
5.Get big rocks. Once the plants, small rocks, mulch, and weed barrier were in place I went back to ASAP (and to a couple of houses I found giving away rocks on Craigslist) and started picking out larger boulders to line the edges of the creek bed. None of the boulders I chose where heavier than two people could carry – and most I could lift by myself. I probably made three or four trips to get enough boulders to line the bed.
All of the plants were chosen with a nod to size, color of flower, and spread. As they grow as the years go by the entire area will be filled with lush, overlapping plants around the creek bed. For now, they're a little too small to give the impression of the finished look – but eventually they'll be gorgeous. I even planted a bunch of ground cover (called Frog Fruit) that you can walk on without damaging. As it fills in it will cover the entire section in which it's planted. All of the rocks were chosen for size, color and texture – and it was fun picking everything out.
All in, I spent about $1,900 on this area. I probably put in about 50 hours over the course of a month or so – weeding, planting, and installing rocks. I just went out there whenever I had a bit of time and did things as I felt motivated to do them (it should be noted that I did all of this earlier this spring before it got so darn hot. It's not only better for the plants as they have a chance to root before the heat waves hit, it was a pleasant and tolerable workout for me in the cooler weather).
If you have an area of your yard that needs a little love, and you don't mind literally getting your hands dirty – consider a dry creek bed. You can go online and do a search and the beauty and creativity of some of them will knock your socks off. Good luck with your project – and let me know how it goes!
List of plants I used:
Rosy Maidenhair Fern
Big Blue Liriope Muscari
Dianella
Treasure Crown Ardesia
Variegated Liriope
Burgandy Glow Ajuga
Silver and Gold Vinca Minor and Purple Vinca Minor
Frog Fruit
Purple Heart
Variegated Flax Lily
Aztec Grass
Here's a photo of when I started in March. You can see the one section that I completed with plants and mulch and the weed barrier on the next section that I was going to tackle. I definitely did this one small section at a time.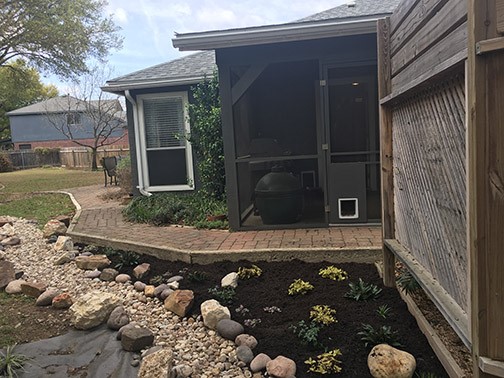 This next photo shows the left side of our fire pit area. When I took these photos we had just had a big windstorm so there was a lot of debris on the ground (leaves, flowers from the trees, etc.). Until all of the plants fill in fully it's going to look a bit ragged when the wind has it's way.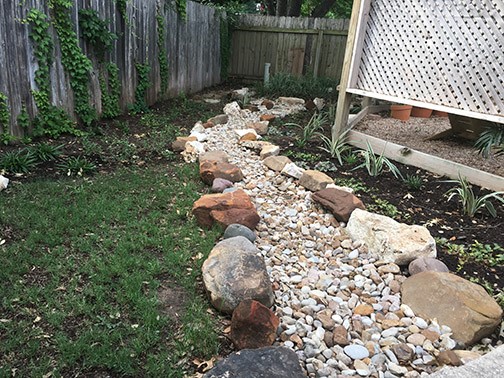 This last photo shows the view toward one of our side yards. Everything except the lawn in the distance is native Texas, drought tolerant! I don't have to water it much at all and it loves the heat!